What do porn stars, comic book readers, dentists and cigar smokers have in common? They all have conventions! And this is the time of year for the International Premium Cigar & Pipe Retailers Association (IPCPR) to have theirs. They even have a culturally sensitive mascot, seen below.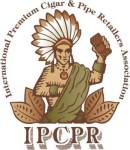 According to IPCPR, their annual convention has hundreds of retailers handing out free cigars and other goodies in a couple hundred thousand square feet of space. It's going to start August 8th and end on the 12th in New Orleans. Yes, it starts tomorrow. So, unless you are already planning on going, you probably won't be. That means no free cigars but that doesn't mean you won't be able to know what is going on.
What follows are some links to coverage of IPCPR:
Stogie Review has continuous coverage through their Twitter page. They will be physically attending the shindig but, hopefully, they will leave out the bathroom breaks from their coverage (I hope!).
If you're a fan of Oliveros cigars and want to see Kinky Friedman then you can go to the Oliveros booth on the 9th, 10th or the 11th to see him.
CAO is going to unveil its new line, La Traviata, which is kind of similar to my first name, at this year's IPCPR. Here's a review.
Chief Hava is going to have a Twitter BOTL event on August 11th. And you might also want to check out his post on how the Texas smoke Nazis, in tandem with duplicitous business interests, are stomping out cigars in Galveston, Texas. TEXAS!!!
Want to know what Padron, Patel, Tatuaje, Casa Magna and others will be unveiling at this years IPCPR? Then head on over to The Stogie Guys! They have a short description of all the new cigars.
Alright, that's enough. Go smoke a cigar!