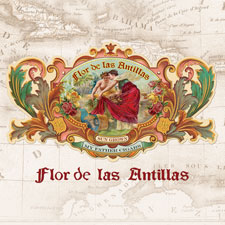 I received the cigars for this review from Thompson Cigar; as always, all reviews are my own.
I've reviewed this cigar before and I remember liking it. Actually, the first time I ever tried one of these cigars I thought it was an amazing cigar. Full of flavor and life and pretty much everything else I want from a cigar. But I smoked them a few more times and, while I still enjoyed them, these cigars did not maintain their lofty status in my estimation. Great cigar, just not one of those cigars perched at the uppermost reaches of my all-time top list (which is firmly ensconced in my head).
This is the robusto; oily, box pressed with rounded edges, twice as wide as it is deep, great construction, not much in the way of imperfections, a pleasure to look at. A lot is going on in the band, paintings of some sort, which I like. There's also a cloth band around the foot (I guess that's in case it gets cold… (I'm leaving that in because it's such a horrible joke)).
Cigar Stats
Vitola: robusto
Length: 5"
Ring Gauge: 50
Wrapper: Nicaraguan Sun Grown
Binder: Nicaraguan
Filler: Nicaraguan
Price: $118.80/Box of 20 | $32.20/Pack of Five
Borgia back on Netflix Conflagration!
I've gotta admit, the way this cigar is starting out reminds me a lot of that first experience I had with one of these cigars. It has loads of flavor with a decent amount of intensity. There's this really unique spice that enhances everything that it touches. Oak, cherry tinged hay and some other bright flavors. The texture to the smoke feels almost like mist.
During the second third the spice greatly dissipates, which isn't a great development but it could be worse. Oak and cherry still around. There's a light dusting of coco in there as well.
The final third features a great deal more coco and there's also a floral flavor too. That floral flavor was probably in there the whole time but buried behind the other flavors.
Medium-full bodied with a good draw and burn; the Flor de las Antillas is definitely a tasty cigar with a lot to recommend it. Like I said earlier, when I smoked my first one I thought this was one of those truly special cigars; and maybe you'll think so. It sure started out exceptionally well this time but it quickly dropped off from Olympus down to mortal status. And yet, much like everything My Father Cigars makes, I think this cigar is worth a try.
90 points