I have no clue why they are using the band that they are. It's cool and all, with a little painting of a woman and what looks like a grown up cherub (or is it an angel?), but I have no clue what it's suppose to signify. And guess what? I'm not going to look into it.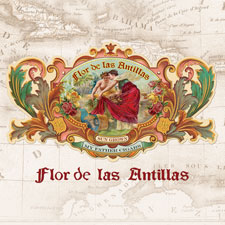 Alright, I looked into it. Supposedly, it's basically souped up artwork from the early twentieth century and, when put that way, that makes sense because it actually looks like art is suppose to look. You can see it on the side.
The name, Flor de las Antillas, means something like "flower of the Antillas", and that "flower" would be Cuba and the "Antillas" are, I'm led to believe, a group of islands (For those of you like me who have only had tres years of high school Spanish – and, as such, know barely any Spanish – "Antillas" is the Spanish spelling for "Antilles", which is the term used to denote the island chain in the Caribbean). So, the name is meant to honor Cuba (and by "Cuba" they must be talking about the island itself and the people – not the athletically attired tyrant on the Oft rumored precipice of death).
What about the cigar? It's rustic with some bumps, veins and wrinkling of the wrapper. A box pressed torpedo and it is obvious that this cigar is very well made no matter how "rustic" the oily, medium brown sun grown wrapper looks.
Cigar Stats
Vitola: torpedo
Length: 5 ½"
Ring Gauge: 52
Wrapper: Nicaraguan Sun Grown
Binder: Nicaraguan
Filler: Nicaraguan
Price: $130.00/Box of 20 | $7.25/Single
Intemperance Flame!
Sweet spice with chalky earth and some cocoa start out this cigar during the first third with the sweet spice taking the lead. I like spice and if it just sticks to that I will enjoy this cigar. The smoke is chewy and the finish lasts for a little while both in my nostrils and in the back of my throat.
Whereas spice was the major flavor during the first third the second third shifts more towards cocoa and earth. It's an interesting mix of flavors that works well and I'm finding that I don't like it any less since the flavor profile has shifted.
With the final third of this cigar the cocoa and earth just get stronger. There are fleeting moments of burnt hay interspersed that adds a little bit of extra interest into the flavor profile for me.
My first introduction to this cigar was when one of the guys who works at Embassy Cigars in Brea, CA gave me one as a sample. I didn't know anything about the cigar and he just figured that I'd like it. Well, he was right. This is a very good cigar, maybe not very complex but still very flavorful.
Medium-full bodied with an excellent draw and burn. Each one of these that I smoked offered copious amounts of smoke and that smoke was the residue of what is a very good cigar.
91 points